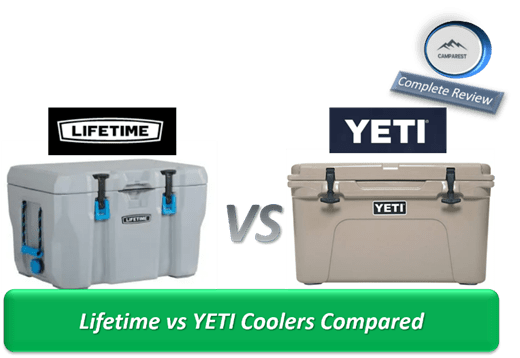 In this article we've shortlisted the best coolers and ice chests when it comes to great quality, well-insulated hard coolers and soft backpack coolers. Don't be surprised to see a few YETI cooler options make this list – but we've also included more budget-friendly options as well as alternatives to YETI from brands such as RTIC, Otterbox, Hydro Flask and REI.
ADVERTISEMENT
Depending on the type of ice cooler you buy, especially if you are considering an expensive hard-sided cooler like a YETI Tundra, you could be spending a lot of money on your cooler or ice chest.
With cost in mind, it's important to know what features to look out for when working out which is the best option for your needs and budget.
IF YOU'RE SHORT ON TIME, our favorite all-round cooler right now, and the cooler that came out top in our tests, is the YETI Tundra 45 – but keep reading this post to see all the other great options available.
At the end of our best hard and soft cooler roundup, you'll find our educational guide on all the different types of coolers and also a guide on how to choose the right one for you.
Read on for our list of coolers by type, including concise cooler reviews we have created as part of our cooler review and testing process.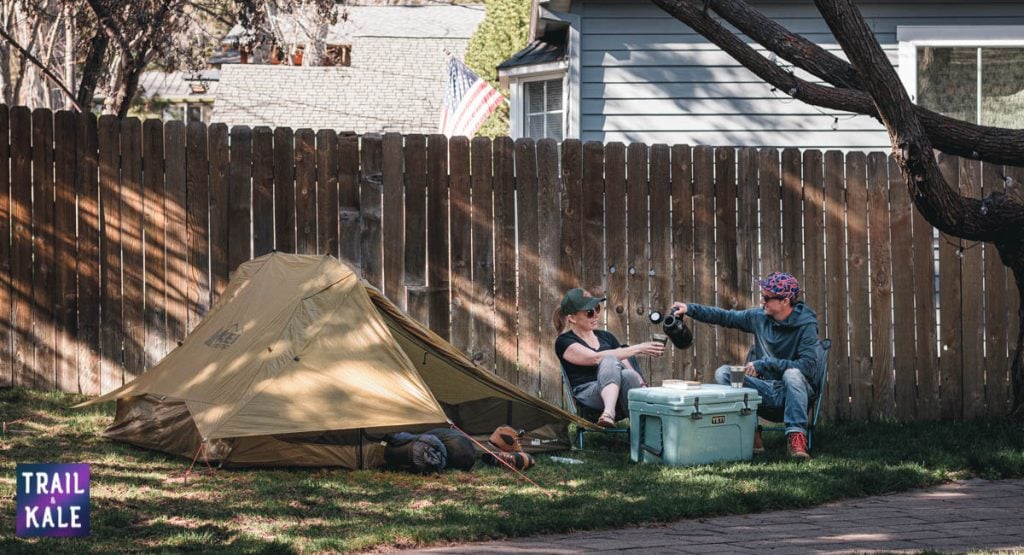 Best Coolers – Table of Contents
---
The Best Coolers Roundup [With Reviews]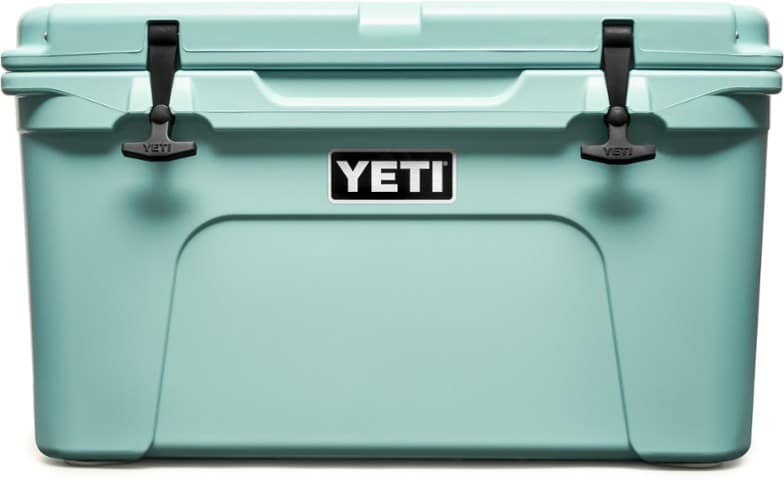 1. YETI Tundra 45 [Overall Best Hard Cooler]
Capacity: 28 cans
Weight: 23lb
External dimensions: 25.75 x 16.125 x 15.4 inches
Other sizes available: yes (65 Qt is also a popular size)
Price: $300
Reasons to buy: Quality construction, good looking and premium brand
Downsides: Expensive
Quite simply, if you want the best insulation on the market, and a well-constructed, robust and good-looking hard-sided ice cooler, the YETI Tundra coolers are the top choice.
Everything from the heavy-duty rubber handles and feet to the thickness of the insulated walls screams quality and it's why the Tundra sits at the top of our cooler reviews.
All that comes at a price, however, but when you're looking at buying something like a cooler that should last you decades if you look after it, then if you have the budget then the YETI Tundra is worth the investment.
If you are looking for a YETI cooler with wheels, check out the YETI Tundra Haul, which is in our 'best cooler with wheels' category below.
To see the YETI Tundra 45 cooler in some more detail, our brief Tundra cooler review video below shows the cooler and talks through the key features.
Last Amazon price update was: 2nd September 2022 5:00 pm
---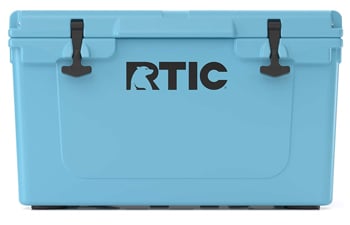 2. RTIC 45 QT Cooler [Best YETI Alternative]
Capacity: 36 cans
Weight: 25lb
External dimensions: 26.5 x 16.5 x 15.9 inches
Other sizes available: Yes (20, 65, 110, 145 and a lightweight 52 option)
Price: $200
Reasons to buy: Well-made, rugged cooler, larger capacity than YETI equivalent
Downsides: Only available online
If you are looking at the YETI Tundra 45 and thinking 'this looks great but can I really justify $300 on an ice cooler?', then we hear you.
That's a lot of cash, especially when you have companies like RTIC that make very similar coolers, which are also rotomolded plastic construction, super durable, and well-insulated, but at a significantly lower price point, making them a great alternative to the YETI Tundra.
The RTIC 45 QT is a great cooler and similar in size and style to the YETI Tundra 45, but $100 less expensive.
When you consider that RTIC coolers are sold direct from the company to you as the consumer, they're able to keep the price down.
Last Amazon price update was: 2nd September 2022 5:00 pm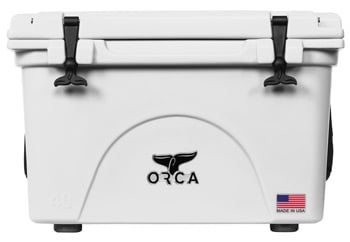 3. Orca 40 Qt Cooler [Runner Up]
Capacity: Up to 48 cans
Weight: n/a
External dimensions: 26.25 W x 18.2 D x 17.6 H
Other sizes available: Yes (20, 26, 58, 75 and 140 Qt models)
Price: $320 at Amazon | orcacoolers.com
Reasons to buy: Good-looking, well-built, US-made cooler with a great color selection
Downsides: Expensive (similar price to the YETI Tundra)
To learn more about this premium hard cooler, read my ORCA Coolers 40 Quart review next.
Orca is another rotomolded, premium cooler brand that is made in the USA and designed to be super durable and keep the contents cold for days.
It features flexible handles with good grip, and a water-tight gasket on the lid. We also like the added cargo net on the back for extra (non-cooled) storage.
The Orca is one good-looking cooler for a wide range of uses including camping, at the beach, and boating, and it's available in a wide range of colors.
Color options include vibrant colors such as pink, lime green, and orange. Never lose your beer stash again!
Last Amazon price update was: 2nd September 2022 5:00 pm
---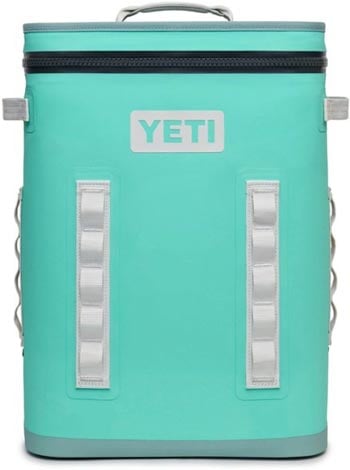 4. YETI Backpack Cooler (Hopper Backflip 24) [Best Soft-Sided (Backpack) Cooler]
Capacity: 20 cans (assuming 2:1 ice:can ratio)
Weight: 5lb
External dimensions: 19 H x 14 W x 10 D inches
Other sizes available: No (although other non-backpack options are)
Price: $300
Reasons to buy: Quality, comfortable backpack with good volume for day-trips
Downsides: Expensive
This YETI backpack cooler is comfortable to wear by virtue of its padded straps and the addition of a waist belt.
It has all the features you expect of this premium brand, including a leak-proof zip and a high standard of insulation.
However, at $300, the Hopper Backflip is expensive compared to alternative options like the Hydro Flask one below.
That said, if you have the cash and love the YETI brand then it's an excellent backpack cooler you won't be disappointed with, and it is slightly larger in volume, too.
Last Amazon price update was: 2nd September 2022 5:00 pm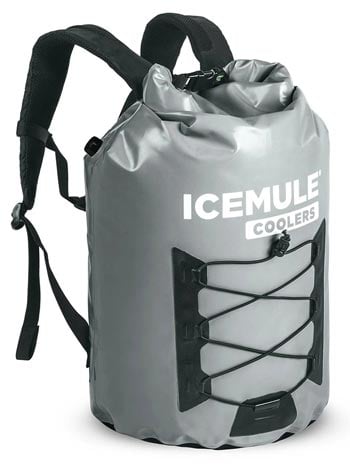 5. ICEMULE Pro Large (24) and X-Large (33) [Runner Up]
Capacity: 18 cans (with ice) for Large, 24 cans (with ice) for X-Large
Weight: 3.2lb / 3.5lb
External dimensions: 17 H x 14 W x 11 D inches / 20 x 14 x 11 inches
Other sizes available: XX-Large is also available
Reasons to buy: No zippers, compact and rolls up when stored, floats in water
Downsides: Less structure when carrying heavier contents such as cans
While the Hydro Flask and YETI backpack coolers in this category use taped waterproof zip closures to seal the top, ICEMULE takes a different approach with their dry-bag style backpack coolers, which roll down and seal in the same way.
ICEMULE coolers are designed to be waterproof both ways, float in water and retain solid ice for 24 hours, which is plenty for a full day out adventuring.
Especially good for watersports such as kayaking, SUP, and boating, as well as the beach.
Last Amazon price update was: 2nd September 2022 5:00 pm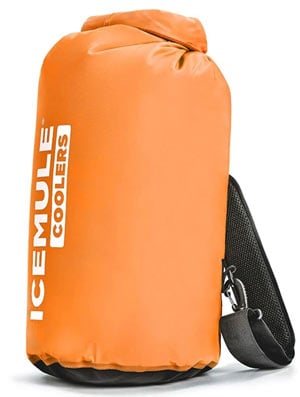 6. ICEMULE Classic – Medium (15 L / 12 cans plus ice) [Runner Up]
Capacity: 12 cans with ice
Weight: 2lb
External dimensions: 10.25 L x10.25 W x 18 H when closed
Other sizes available: Mini (9L), Small (10L), Large (20L)
Price: $70
Reasons to buy: No zippers, compact and rolls up when stored, floats in water, lightweight
Downsides: Less structure when carrying heavier contents such as cans
For more about this cooler including photos of it in use, read our IceMule cooler review.
This sling-style backpack cooler is great value and perfect if you don't plan on doing any long hikes with your cooler but want an easy way to carry cool food and drinks to the beach, a party, boat or campground.
The medium is the most versatile sized ICEMULE Classic cooler, and has plenty of capacity to carry 12 regular cans, with ice, or 4x 750ml bottles.
It's lighter and less expensive than the two-strap backpack-style ICEMULE Cooler above, but with the same zip-free, roll-top design.
Last Amazon price update was: 2nd September 2022 5:00 pm
7. Hydro Flask Day Escape 20 L Backpack Cooler [Runner Up]
Capacity: 36 cans (without ice)
Weight: 3lb
External dimensions: 17.7 H x 13 W x 7.8 D inches
Other sizes available: No (although Hydro Flask make Tote Bag coolers)
Price: $200
Reasons to buy: Lightweight, portable, leak-proof and durable
Downsides: Due to the tall shape it can be hard to reach contents at the bottom once fully packed
This backpack cooler is designed to provide 36 hours of cooling – perfect for a day hike, festival or overnight camping trip where you need to keep food cool for breakfast and lunch the next day.
It is lightweight, leak-proof and made from durable construction so you can take it pretty much anywhere, and as it's a backpack, it's easy to carry hands-free.
Plus, Hydro Flask designed this pack to have structure so heavy contents don't dig into your back when you're carrying it fully-loaded.
---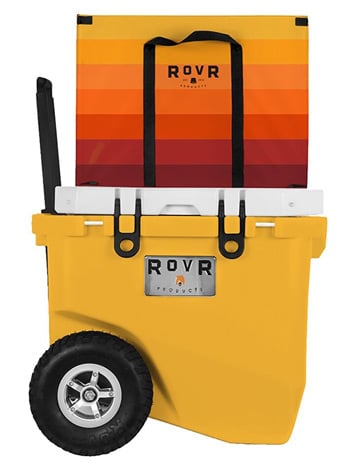 8. ROVR RollR 45 Wheeled Cooler [Best Cooler with Wheels WINNER]
Capacity: 60 cans with 10lb of ice
Weight: 39lb
External dimensions: 19.3 H x 18.9 W x 22.5 D inches
Other sizes available: 60, 85 and 85
Price: $400
Reasons to buy: Rugged wheels, quality built and thoughtful accessories such as a 'wagon bin', cup holders and a prep board (ideal for slicing limes or making tapas)
Downsides: Very heavy and large to store when not in use
Unlike other cooler brands such as YETI, Orca and RTIC which offer a range of hard and soft coolers, ROVR specializes in hard rollers with wheels and the RollR has 9-inch, puncture-resistant tires which make it one of the best choices for wheeling over all terrain, even sand.
ROVR coolers also do a good job of keeping contents cold – as good as the YETI Tundras, with an advertised maximum of 8 days of ice retention.
These coolers are also air-tight, bear-resistant, and come with a 5-year warranty.
Last Amazon price update was: 2nd September 2022 5:00 pm
---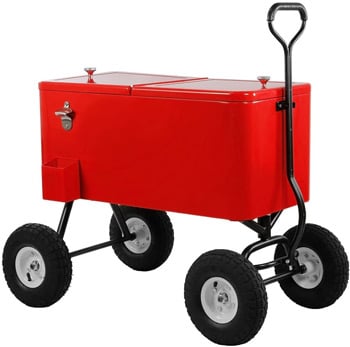 9. Clevr Wagon Cooler Rolling Party Ice Chest [Runner Up]
Capacity: 70+ cans
Weight: 42lb
External dimensions: 13.75 H x 15 W x 30.5 L (cooler excluding wheels and handle)
Other sizes available: No
Price: $175
Reasons to buy: Large 10 inch all-terrain wheels, one of the best coolers for parties, big enough for plenty of food and drinks
Downsides: Heavy and large, limited durability
This ClevR wheeled cooler is ideal for those situations where you don't need days and days of ice retention but want a cooler that's easy to transport over the ground on wheels.
Being a large cooler, there's plenty of space across the two compartments to store drinks and food and keep them cool for a full day or two.
While it is heavy, and not as durable and adventure-ready as other cooler options, this ice chest on wheels is ideal for parties – and the bright color makes it easy for everyone to know where the cool drinks are.
Last Amazon price update was: 2nd September 2022 5:00 pm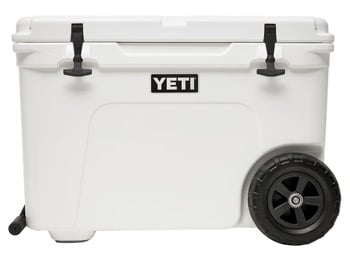 10. YETI Tundra Haul [Runner Up]
Capacity: 45 cans of beer (using 2:1 ice:can ratio)
Weight: 37lb
External dimensions: 19.5 H x 18.6 W x 28.25 L
Other sizes available: Not in the wheeled version
Price: $400
Reasons to buy: YETI quality
Downsides: Not as spacious and feature-rich as the ROVR Rollr
Surprise! It's another YETI cooler here.
It didn't win in the coolers with wheels category, though, because the ROVR cooler is also great quality and offers more capacity and added features for the same price.
That said, you really can't go wrong with a YETI cooler, and if you're already a fan and prefer the sleek look of the Tundra Haul wheeled version then it's a solid choice.
If you prefer the hard coolers at the top of this list but would like to wheel them at least some of the time, then you could also consider buying add-on wheels that you can use with those YETI and RTIC coolers when needed and remove when not required.
Last Amazon price update was: 2nd September 2022 5:00 pm
---
11. RTIC Soft Pack Cooler (Size 8) [Best Leakproof Soft Cooler]
Capacity: 6 cans
Weight: 2lb
External dimensions: 12 H x 10 W x 8 D
Other sizes available: 12, 20, 30, 40
Price: $70
Reasons to buy: Leakproof, puncture-resistant, lightweight soft cooler ideal for work, camping and boat trips
Downsides: Hard to fault if you're looking for a highly portable, leakproof cooler
If you don't need the extra straps of a backpack cooler, or want a more traditional open-top shape but in a portable soft-sided cooler, then these RTIC soft coolers are a great choice. What makes them so great?
They're leakproof, lightweight, puncture-resistant, come in a great range of sizes and colors, and all for less than $70.
Last Amazon price update was: 2nd September 2022 5:00 pm
---
12. Igloo BMX 25 Quart Cooler [Best Small Budget Cooler WINNER]
Capacity: 37 cans
Weight: 11.3lb
External dimensions: 19.59 L x 13.25 W x 15.7 H inches
Other sizes available: 52, 72
Price: $80
Reasons to buy: Budget value everyday cooler with heavy duty construction
Downsides: Not as robust as rotomolded options, and the lid is not sealed
This little cooler is super-popular if you're looking for a smaller cooler made with heavy duty construction that won't break the bank.
It's not a rotomolded cooler like a YETI or RTIC but it's well-made and lightweight and can hold ice for a couple of days.
Other features of this Igloo cooler include a comfortable rubber grab handle and four tie-down points to keep it in place when traveling.
Last Amazon price update was: 2nd September 2022 5:00 pm
---
13. Stanley Adventure Cooler – 30-Quart [Runner Up]
Capacity: 40 cans
Weight: 13.6lb
External dimensions: 21.34 L x 15.47 W x 18.46 H inches
Other sizes available: smaller sizes are available (6 and 16 qt)
Price: $150
Reasons to buy: More convenient shape for transporting in and out of cars
Downsides: Doesn't look at fancy as rotomolded options
This Stanley cooler is another lightweight, budget-friendly cooler with a larger capacity than the Igloo option above.
Its shape means it can store taller soda bottles upright and it also makes a convenient seat or table. This also means it is easier to lift by yourself when full.
It features a leak-proof drain plug and leak-resistant lid gasket and should keep your ice and contents cool for several days, and comes with a Stanley lifetime warranty.
Last Amazon price update was: 2nd September 2022 5:00 pm
---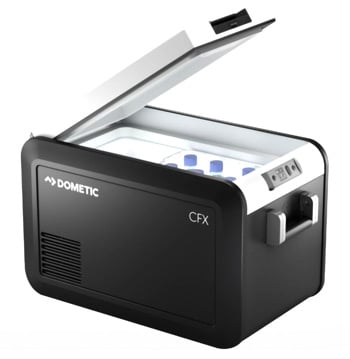 14. Dometic CFX3 35 Powered Cooler [Best Electric Cooler for Car Camping and Van Life]
Capacity: 50 cans
Weight: 37lb
External dimensions: 27.5 L x 16 W x 16 H
Other sizes available: Yes – Dometic make a whole range of powered coolers
Price: $900
Reasons to buy: Ideal if you enjoy car camping or van life and have a power source, no ice needed or water to drain
Downsides: A much more expensive option than a regular ice cooler.
If your main motivation for researching coolers is because you are looking for the best coolers for car camping or for use in a camper van, then an electric cooler is the way to go.
This is assuming you have access to an electricity supply, either at your campsite, in your vehicle, or with a portable power station such as an Ecoflow.
LEARN MORE: Read our 'Best Portable Power Stations' Buyer's Guide next.
This Dometic electric cooler will keep your food and drink cool without ice. So it's a mess-free, super convenient option.
---
Cooler Buyer's Guide | How to choose a cooler
Types of cooler
Hard-sided coolers
When the majority of people think about ice coolers they're thinking of hard-sided coolers, which are typically made from well-insulated, rotomolded plastic and are pretty chunky.
It's this size that helps these coolers offer good durability and insulation to keep the contents cool for several days, or at least a weekend in the case of cheaper ice chest options.
Depending on the level of quality and insulation you're looking for, these coolers can cost anything from around $50 for a cheap cooler like this Coleman option, to $300+ in the case of the larger YETI Tundra models.
The higher-end models can keep your food and drink cool for a long weekend of camping and then some, and are great to have not just for car camping, but also for tailgating and parties where you don't have to carry them far.
The above point is important because these coolers can get heavy, and can therefore be difficult to transport far, even with wheels.
Because in this list we're talking about the best coolers, generally cheap does not equate to best, unless your priority criterion is saving money on the initial purchase.
So we've prioritized features, including durability, longevity, and insulating properties in selecting the best hard and soft coolers that made it onto this list, and this is the reason why most of the options here are priced between $100 and $300, rather than being under $100.
Soft coolers (backpack coolers)
The main advantages of soft-sided coolers over hard coolers are their lighter weight and portability.
Backpack coolers are getting very popular now with traditional cooler companies as well as hydration companies and other outdoor gear businesses getting in on the act.
The advantage of the backpack-style rather than tote-style or hard-sided coolers is that the shoulder straps make it easier to carry them around and keep your hands free.
Every year now we see more brands entering the backpack cooler market, as it's being recognized that customers want portability as an option when it comes to carrying coolers on trails and even to and from events such as parties and festivals.
You can also get shoulder-carry cooler bags that are not backpack-style have the advantage of a wider, easier access opening in the top, so you don't have to take everything out to reach down the bottom.
They're also easier to sling in the car than a larger, hard cooler, but given the portability benefits of the backpack style, that's what you'll find on this list.
Soft coolers tend to be less expensive than hard coolers, and are made from durable and waterproof fabric with tough rubber lining, similar to what you'd find on an inflatable SUP.
The downside to soft coolers is that they lack the same level of insulation and so will not keep the contents as cool for as long.
It's also important to choose a good quality soft cooler to ensure that it is made of waterproof and water-tight construction and won't leak once the ice inside starts to melt. This is a big issue with cheap soft coolers.
Soft cooler waterproofing features to look out for include taped, rubberized zippers to prevent leaks, a welded (rather than stitched) liner, and a thick, reinforced base to minimize risk of scuffs, tears and other damage.
How long do coolers stay cold (and keep the contents cold)?
Cooler ice retention (or how long it will take for ice in your cooler to melt) is the subject of much debate.
Unlike other outdoor gear which have standardized, universally recognized ratings for things such as waterproofness (reference IPX ratings in our best running headphones guide, as an example), cooler manufacturers sometimes give an indication of how long their products can keep the contents cold for.
The way this is measured is not standardized, however, so it's hard to compare like-for-like.
The general rule when it comes to coolers is that you get what you pay for in terms of ice retention.
The more expensive hard-sided coolers such as YETI and RTIC keeping contents cooler for longer (several days depending on use and the exterior conditions the cooler is stored in) and the cheaper options may keep things cold for a weekend at most.
Generally, it follows that the thicker the walls in a cooler (which usually corresponds to the purchase price), the more well-insulated it is and the longer it will keep ice and food inside cold, all other factors being equal.
What size cooler to choose
When considering what size ice cooler to buy, also think about how they work. While small coolers, and especially the soft-sided ones, are more portable and convenient, they are also going to be less well-insulated than a larger cooler.
If a larger cooler is full of frozen or cold food and drink (and ice), then it will stay cooler for longer than a smaller one as there is more cold stuff in it to keep it all staying cold.
So if the length of chill time is important, it's best to buy a larger cooler.
When thinking about how much you may want to store in your cooler, bear in mind that even if a cooler looks big, it can be much smaller inside once you account for the thick, insulated walls.
You should be aiming to have twice the volume of ice to food (or drink), in order to keep the contents cool, so this is another reason to think big, if you have the budget and space for a larger cooler model.
To give an example of how much you can fit in a cooler, have a look at this picture of our RTIC 45 QT Cooler and you can also watch the video review of the YETI Tundra 45 which we've included further up in this article.
Coolers' internal capacity is measured in several different ways depending on the manufacturer, including cans, quarts, and liters, and this is not as simple as the number that is often in the name.
The internal volume can be much smaller once you consider the thickness of the cooler's walls.
We've stated coolers' internal volumes, where available, in cans in this article, to give a basis for comparison and help get a feel for how much food and drink you could fit inside each.
Comparing cooler weight and portability
If you need to carry your full cooler any distance, then consider getting a cooler with wheels.
Most good quality coolers, including those selected for this list, are well-built, durable, well-insulated and – well – heavy – even before you've put anything in them.
If your cooler is going to live in a van or on the back of a truck, then portability is less of a priority – and they do have handles on either side so you can move them even if it takes two people.
If you are looking at ice coolers with wheels, it's worth thinking about what terrain you will most likely be wheeling it on.
If it's on a trail or beach, then make sure the wheels look like they're up to the challenge – generally the larger, the better, so they can turn and not get stuck on loose and uneven ground.
What is a 'rotomolded cooler'
Rotomolding is a technique for molding plastic using rotation-molding – this technique is used for loads of products, including, in our outdoor-focused world, kayaks, as well as many hard-sided ice coolers including YETI and RTIC models.
The great thing about this technique is that there are no seams – great when your product needs to hold and retain ice, which becomes water.
Another advantage of roto-molded coolers is that many of them are designed and built to be bear-resistant, which is important in certain parts of the world where bears may be present.
RTIC vs YETI
If you're new to choosing a cooler, and especially a hard-sided cooler, then you may have seen or heard of YETI coolers and also RTIC coolers and wondered how different they are – because they look so similar.
While YETI has been around longer and is undisputedly a very popular high-end cooler option in terms of price and build quality, RTIC coolers offer very similar size options and similar ice retention.
Are expensive coolers like YETI worth it? Depending on who's done the test, some will say that, yes, because YETI coolers do keep the contents cooler for longer, so they may have the edge in that department.
However, on balance, an RTIC cooler may be a good choice for you given it is similar to YETI but at a lower price point and if you aren't dead-set of having the longest ice retention in the market.
Finding a bear-proof cooler
Many hard-sided cooler manufacturers state that they are bear-proof.
If a cooler in this list has this label, we have included that information, which should be helpful especially if you plan to use your cooler in Bear Country.
In such places, it's important to ensure that if a bear can get to your cooler, they can't get into it (or it would take them a very long time to do so, as bear-proofing is not necessarily a guarantee).
Cooler features and accessories
While coolers are pretty simple pieces of outdoor gear, it's worth thinking about what cooler features are important to you, aside from the key question of how long a cooler keeps things cold.
Coolers are built to hold ice and/or water, as well as your food, drink or whatever else you want to keep in it (such as fishing bait).
Most good coolers will have a drain so you can easily empty out the water in the bottom, rather than having to tip it upside-down. This is also helpful for cleaning out.
Larger coolers may be sold with storage baskets which can help organize the contents and keep softer items away from heavier items inside the chest.
You can also buy reusable ice packs, which help to reduce the amount of ice you need to buy and which will eventually melt.
Lastly, certain coolers come with other features such as optional cushions, to make them more comfortable for casual seating.
Find a cooler
Now you know what to consider when choosing between the various hard and soft cooler options, click here to jump back up and see the list.
FAQs
What cooler is comparable to a YETI cooler?
Best Yeti Alternatives: 12 Best Alternatives to Yeti Coolers in 2022
| Description | |
| --- | --- |
| RTIC Ultra-Light | Check on Amazon |
| Orca Cooler | Check on Amazon |
| ENGEL Cooler/Dry Box | Check on Amazon |
| IceMule Jaunt 15 L Soft-Sided Cooler | Check on REI |
8 more rows
What brand is most comparable to YETI?
What about finding a Yeti-cooler alternative that won't cost an arm and a leg?
REI Co-op Cool Haul 12 Soft Cooler. …
OtterBox Trooper 12 Tote Cooler. …
Arctic Zone Titan Deep Freeze Zipperless Cooler. …
Arctic Zone Titan Deep Freeze Premium Ice Chest. …
Igloo BMX Family with Cool Riser Technology. …
Stanley Adventure Cooler.
Are Yeti Coolers the best on the market?
A lifelong fisherman, hunter, and thereby cooler aficionado, I've tested most of the coolers you'll come across. Yeti is the best of the best, but with one major caveat: You almost definitely don't need one. Owen Burke/Insider
Which cooler is best for the money?
Top 8 Affordable Coolers
Lifetime Coolers. Durability Test. …
Igloo Quantum. The Igloo Quantum was the best cooler for ice retention for under $100. …
Igloo BMX. Igloo BMX 25 Quart. …
Igloo MaxCold. …
Igloo Island Breeze. …
Igloo Latitude 60 Rolling Cooler. …
Coleman Wheeled Cooler. …
Igloo Latitude 50.
Best Coolers and Ice Chests of 2022 – Switchback Travel
Switchback Travel | Best Coolers and Ice Chests of 2022 Whether you're headed to the beach, tailgating before your favorite sporting event, or camping in the wild, keeping your food and drinks cold is absolutely key. Thankfully, the market is packed with high-quality coolers that excel at everything from short day trips to week-long adventures. Below we break down our favorite hard-sided coolers and ice chests of 2022, including budget-friendly Coleman models, ultra-premium YETIs, and popular offerings from brands like RTIC, ORCA, Pelican, and more. For more background information, see our cooler comparison table and buying advice below the picks.   Our Team's Cooler Picks Best Overall Hard-Sided Cooler: RTIC 52 Ultra-Light Best Premium Cooler with Excellent Ice Retention: YETI Tundra 65 Best Budget Cooler: Coleman Xtreme 5 Cooler Best Small Cooler for Day Trips: YETI Roadie 24 Best Cooler with Wheels: RovR Products RollR 45 Best Overall Hard-Sided Cooler 1. RTIC 52 Ultra-Light ($200) Construction: Injection-moldedCapacity: 52 qts. (49.2L)Weight: 21 lbs.Other sizes: NoneWhat we like: Great price, versatile size, competitive ice retention, and easy to transport.What we don't: Only sold online; injection-molded construction is less premium than rotomolded designs. The best hard-sided coolers nicely balance capacity, ice retention, portability, and price, and RTIC's 52 Ultra-Light checks all those boxes emphatically. Starting with capacity, you get a versatile 52 quarts of storage, which easily squeezes into a trunk but still offers sufficient space for two campers headed out on a long weekend (for reference, most alternatives are either 45 or 65 qts.). As the name suggests, the 21-pound RTIC is well made yet notably lightweight, making it easier to carry than most similarly sized options, including YETI's smaller Tundra 45 (23 lbs.). Last but not least is cost: By selling direct to consumer (and consistently discounting their coolers on their own site), RTIC's prices are significantly lower than much of the competition, with the 52 Ultra-Light checking in a considerable $125 less than the aforementioned Tundra 45. What are the downsides of buying an RTIC cooler? First is the lack of convenience: While you can see and pick up a YETI and many other brands at your local outdoor shop, you don't get the same luxury with online-only RTIC. Additionally, the Ultra-Light's injection-molded construction means it comes up a bit short in terms of all-out durability compared to the Tundra and other premium rotomolded options, although the tradeoffs are a more manageable weight and reduced cost (for more on this, see our buying advice below). The RTIC also falls a little behind in ice retention, although the differences aren't as stark as the price gap would suggest. Realistically, the Ultra-Light is all most of us need for beach days, summer camping, and boating trips, and the combination of value and performance earns it our top billing for 2022.See the RTIC 52 Ultra-Light Best Premium Cooler with Excellent Ice Retention  2. YETI Tundra 65 ($375) Construction: RotomoldedCapacity: 60.9 qts. (57.6L)Weight: 29 lbs.Other sizes: 28 to 329 qts.What we like: A premium cooler in every way that should last for years and years.What we don't: Expensive for the capacity and heavy. In the world of coolers, YETI pioneered the high-end concept, and the Tundra is its best-selling and most versatile model. This popular line features premium cooling and ice-retention capabilities with a thick, rotomolded build that's more durable and less prone to cracking than injection-molded options like the RTIC above. Further, you get a handy basket for dry goods, secure closures, and multiple tie-down slots to easily secure it on a boat or truck bed. What's more, the Tundra is certified as bear-resistant (locks are sold separately for $30), which is great for those who plan to spend time in bear country. Throw in YETI's clean styling and a nice selection of classy colorways from simple white to dark olive, and the Tundra 65 is an exceptionally well built and good-looking option for everything for car camping to road tripping and long days on the water (provided you have a generously sized boat or raft). The biggest downside of buying a YETI is price. At $375 MSRP (a YETI is a great item to get on sale), this cooler is more expensive…
Best Coolers for 2022: Cabela, Magellan Outdoors, Yeti, …
Best Coolers for 2022: Cabela, Magellan Outdoors, Yeti, RTIC and More Heat waves continue to make their way across the US, so having a dependable cooler is more essential than ever if you're planning backyard get-togethers, camping trips and tailgating events. Whatever outdoor activity you decide on, having a cold place to stash drinks is key for you and your guests to stay cool, hydrated and happy — which is especially important during big events like Labor Day.  That said, finding the best cooler for your needs is complicated by a crowded field. The list of options has grown steadily in recent years. Chief among them are a rising number of heavy-duty, roto-molded coolers that deliver thick, dense insulation superior to traditional coolers (and which perform better by leaps and bounds than a soft cooler or cooler bag).  Keep shopping and you'll find coolers on wheels, thermoelectric coolers, coolers with power and even a cooler backpack or two — truly coolers as far as the eye can see. If that sounds a little daunting, never fear. The entire point of this list is to make finding the best coolers a little easier for you. Over the past several years, we've tested dozens of coolers, 40 of which are still commercially available as of this writing. I've broken them down into four main categories: Small or personal-sized coolers that advertise internal volumes of less than 40 quarts (that's less than 10 gallons or 37.85 liters).Midsize coolers, where most of your top options seem to land, ranging from 40 to 59 quarts (10 to 14.75 gallons or 37.85 to 55.83 liters).Large "party" ice chest coolers that boast volumes over 60 quarts (over 15 gallons or 56.78 liters).Soft-sided coolers, which don't have a specific capacity range, but tend to line up with the same offerings as small or personal-sized coolers.Keep 'em cold. Chris Monroe/CNET Is a bigger ice chest always better? Are the more expensive coolers actually worth their asking prices? And can any of the cheaper models keep up? Are ice life, insulation and versatility more significant? That's what I wanted to know, so I grabbed the usual suspects — Magellan Outdoors, Coleman, Orca, Igloo, Frosted Frog, Yeti, Pelican, RTIC, Cabela's and more — and lugged their most popular models into the CNET test lab. My mission? Find the best coolers of the bunch based on size, features, and most importantly, how cold they stay over time, and then categorize them in a way that will make it easy for you to find the perfect cooler for your needs. Whether it is a soft-sided cooler, a hard-sided cooler, one that has foam insulation or a removable liner, I've considered all these and more to come up with the list of best coolers for you. After several weeks of hands-on testing and countless ambient temperature readings, I've separated the winners from the also-rans. (Of course bonuses like the inclusion of a cup holder or bottle opener is important, but the most critical thing a quality cooler does is keep your cold drinks cold.) Here's everything I learned, starting with the coolers I think you should rush out and buy before your next camping trip or big family gathering. I update this list periodically. Also, don't forget to check out our handy dandy video buying guide for coolers with Andrew Gebhart. We'll show the testing processes, and Andrew and I have a poolside chat about cooler features.  Steve Conaway/CNET The last time I tested coolers for this list, I had Cabela's 60-quart version of this cooler listed as the best large cooler. That title is now held by a Magellan Outdoors model. But in the big picture, if you want stuff to stay cold, you literally cannot beat Cabela's Polar Cap option. Its lowest internal temperature during testing was the coldest, but the real…
Best Coolers And Ice Chests Of 2022 [YETI, RTIC, ORCA…]
Best Coolers And Ice Chests Of 2022 [YETI, RTIC, ORCA…] In this article we've shortlisted the best coolers and ice chests when it comes to great quality, well-insulated hard coolers and soft backpack coolers. Don't be surprised to see a few YETI cooler options make this list – but we've also included more budget-friendly options as well as alternatives to YETI from brands such as RTIC, Otterbox, Hydro Flask and REI. ADVERTISEMENTDepending on the type of ice cooler you buy, especially if you are considering an expensive hard-sided cooler like a YETI Tundra, you could be spending a lot of money on your cooler or ice chest. With cost in mind, it's important to know what features to look out for when working out which is the best option for your needs and budget. IF YOU'RE SHORT ON TIME, our favorite all-round cooler right now, and the cooler that came out top in our tests, is the YETI Tundra 45 – but keep reading this post to see all the other great options available. At the end of our best hard and soft cooler roundup, you'll find our educational guide on all the different types of coolers and also a guide on how to choose the right one for you. Read on for our list of coolers by type, including concise cooler reviews we have created as part of our cooler review and testing process. Best Coolers – Table of Contents BEST COOLERS ROUNDUPCOOLER BUYER'S GUIDE AND HOW TO CHOOSE The Best Coolers Roundup [With Reviews] 1. YETI Tundra 45 [Overall Best Hard Cooler] Capacity: 28 cansWeight: 23lbExternal dimensions: 25.75 x 16.125 x 15.4 inchesOther sizes available: yes (65 Qt is also a popular size)Price: $300Reasons to buy: Quality construction, good looking and premium brandDownsides: Expensive Quite simply, if you want the best insulation on the market, and a well-constructed, robust and good-looking hard-sided ice cooler, the YETI Tundra coolers are the top choice. Everything from the heavy-duty rubber handles and feet to the thickness of the insulated walls screams quality and it's why the Tundra sits at the top of our cooler reviews. All that comes at a price, however, but when you're looking at buying something like a cooler that should last you decades if you look after it, then if you have the budget then the YETI Tundra is worth the investment. If you are looking for a YETI cooler with wheels, check out the YETI Tundra Haul, which is in our 'best cooler with wheels' category below. To see the YETI Tundra 45 cooler in some more detail, our brief Tundra cooler review video below shows the cooler and talks through the key features. Last Amazon price update was: 2nd September 2022 5:00 pm 2. RTIC 45 QT Cooler [Best YETI Alternative] Capacity: 36 cansWeight: 25lbExternal dimensions: 26.5 x 16.5 x 15.9 inchesOther sizes available: Yes (20, 65, 110, 145 and a lightweight 52 option)Price: $200Reasons to buy: Well-made, rugged cooler, larger capacity than YETI equivalentDownsides: Only available online If you are looking at the YETI Tundra 45 and thinking 'this looks great but can I really justify $300 on an ice cooler?', then we hear you. That's a lot of cash, especially when you have companies like RTIC that make very similar coolers, which are also rotomolded plastic construction, super durable, and well-insulated, but at a significantly lower price point, making them a great alternative to the YETI Tundra. The RTIC 45 QT is a great cooler and similar in size and style to the YETI Tundra 45, but $100 less expensive. When you consider that RTIC coolers are sold direct from the company to you as the consumer, they're able to keep the price down. Last Amazon price update was: 2nd September 2022 5:00 pm 3. Orca 40 Qt Cooler [Runner Up] Capacity: Up to 48 cansWeight: n/aExternal dimensions: 26.25 W x 18.2 D x 17.6 HOther sizes available: Yes (20, 26, 58, 75 and 140 Qt models)Price: $320 at Amazon | orcacoolers.comReasons to buy: Good-looking, well-built, US-made cooler with a great color selectionDownsides: Expensive (similar price to the YETI Tundra) To learn more about this premium hard cooler,…

5 Best Yeti Coolers 2022 – (Yeti Roadie 24, Yeti Hopper, Yeti …
Best Coolers of 2022 | Tested by GearLab
Best Coolers of 2022Our Editors independently research, test, and rate the best products. We only make money if you purchase a product through our links, and we never accept free products from manufacturers. Learn more Best Overall Cooler Yeti Tundra 65 Insulation 9.0 Durability 9.0 Ease of Use 7.0 Portability 5.0 Features 7.0 Measured capacity: 56 quarts | Days Below 40º F: 6.5 REASONS TO BUYTop-notch insulationVery durableSimple to useREASONS TO AVOIDExpensiveNo plug leashSmaller than expectedYeti is one of the most recognized names in the game for a good reason. The Tundra 65 boasts the most impressive all-around performance out of any model we tested. Through numerous rounds of our intensive insulation testing, the Tundra 65 continued to outlast the rest in keeping contents at safe temperatures for consumption and refreshing temperatures for drinking. It's a straightforward, rotomolded design that just works. The Tundra 65, one of many chests we tested with a bear-resistance certification from the Interagency Grizzly Bear Committee (IGBC), has sturdy latches that are easy to use and durable. It also comes with a removable dry basket inside the top to keep sensitive items out of melty ice water and can be outfitted with loads more accessories for all kinds of activities. The Tundra 65 is a reasonable weight for its size, and its low profile makes the last beverage easy to find. It's also narrow enough for a single person to load into a truck. Even after regular use over several years, the Tundra 65 performs just as well as the day we bought it. Yeti also continues to diversify the colors and personalization options available for this cooler, providing more choices to match your style better. We are a bit disappointed to have measured this large model with "65" in the name at just 56 quarts, but our testers ended up appreciating this surprisingly useful size more than the models that are actually 65 quarts. The Tundra line also includes a plethora of other sizes, many of which we've tested — from small, personal boxes to giant behemoths. Like many of its competitors, the Tundra 65 has a tiny lip on the inside of the bottom of the drain, making it challenging to empty 100% without flipping the cooler upside-down. Still, we think the Tundra 65 is a super useful choice for almost any activity where you drive your car. Read review: Yeti Tundra 65 We think the Tundra is a great cooler for just about every vehicle-access adventure.Credit: Andrew Schurr Best Bang for Your Buck RTIC 65 Insulation 8.0 Durability 7.0 Ease of Use 8.0 Portability 4.0 Features 5.0 Measured capacity: 67 quarts | Days Below 40º F: 6 REASONS TO BUYPerformance per dollarUser-friendlyGreat insulationTwo drainsREASONS TO AVOIDHeaviest empty weight of non-wheeled coolersNo dry bin includedHigh-end coolers are not cheap. Luckily, the RTIC 65 competes neck and neck with the best coolers out there while costing significantly less than its premium competition. With this model, you get the construction elements and features of top coolers, such as a rotomolded design, robust hinges, comfortable grips for carrying, and two drainage spouts. The non-skid rubber feet on the bottom help it stay in place during transport, and the stretchy rubber latches for the lid are not as stiff and difficult to maneuver as the competition. This cooler is not IGBC certified, but after months of testing, our team agrees that this model is built to last. And in our insulation test, this cooler lasted an entire six days before the internal temperature rose above 40 degrees Fahrenheit. Impressive. All in all, this cooler completely feels premium without the sticker shock. There aren't any major complaints to lodge against the RTIC 65, but one would be that it's the heaviest of all non-wheeled coolers we tested. This is offset by it having the greatest storage space (67 quarts, measured by…
The best Yeti coolers you can buy in 2022 – T3
The best Yeti coolers you can buy in 2022 Join our newsletter All the best features, news, tips and great deals to help you live a better life through technology Thank you for signing up to T3. You will receive a verification email shortly. There was a problem. Please refresh the page and try again. If you're into outdoorsing, you've probably seen some of the best Yeti coolers on your travels. Want to cart a load of beers, wine, cold meats and delicious cheeses outdoors to the park or beach this summer, or simply want a way to keep such items cool outside in the garden, while socialising or barbecuing? Enter the Chinese made, US-based Yeti range of portable coolers, cool boxes or ice chests – chunky hard plastic containers with easy open-and-close rubber and plastic fasteners, that won't befuddle those who may be a bit tipsy at such gatherings. The broad idea here is that you fill two thirds of the containers' innards with ice – and the rest with whatever you want to keep cool. Todays best Yeti coolers don't come especially cheap – you'll find plenty more affordable options in our general best cool box guide, and you might luck out with a cheap Yeti sale or deal to take the price down. But for that slightly premium prices you get a sturdily constructed, well-insulated trunk of chill – or portable fridge, if you like – that manufacturer Yeti claims are leak proof and waterproof. Just how portable they are of course depends on which size option we choose, in terms of inner volume, but, to give just one example, the bulky Tundra 35 Hard Cooler we tested came with carry ropes and handgrips each side, should hefting a fully-loaded unit out of the back of the car and down to the beach or park prove to be a two-person job. Alternatively, you could opt for the Tundra Haul Hard Cooler, which helpfully comes with a pair of built-in wheels to ease transportation and allow one person to drag a fully loaded cooler solo. While the concept here is to keep perishables cool and the heat out, belying the 'cooler' name it's further worth noting there is an alternative use. The insulation works just as well if you want to ditch the ice, turn the concept on its head and instead keep heat in, to haul hot meals rather than cold drinks, for example.In this guide, we'll run through the main entrants in the current range, to help you pick the right option for you. Based on our tests, a lot of it will come down to personal preference and how big a cooler you need for your own personal, friends or family set up, with robustness obviously necessitating a certain chunkiness of build and weight. However, several models offer a range of different sizes to cope with the thirstiest of demands for cold beverages. Read on for our pick of the best Yeti coolers for 2022. Enjoy outdoor feasts with the best camping stove…and don't forget the best camping cookware setServe it all up on one of the best camping tables(Image credit: Gavin Stoker)The best Yeti cooler all roundSpecificationsExterior dimensions: 16.12 x 15.75 x 21.37 inchesInterior dimensions: 9.37 x 10.62 x 13.87 inchesWeight when empty: 20 lbsSize options: 35, 45, 65, 75, 105, 110, 125, 160, 210, 250, 350Reasons to buy+Rock-solid near destruction-proof build+Generous internal volume  Reasons to avoid-Bulky and very weighty when loaded-Ideally requires two pairs of hands to lift and carry We were sent the '35' unit for our Yeti Tundra review, which arrived in a deep maroon 'Harvest Red' colour; white, black or tan options are just some of the other available choices. Bulkier than carry-on luggage…
The 7 Best Coolers of 2022 | Reviews by Wirecutter
The Best CoolersBest hard cooler: Coleman 70-Quart Xtreme 5 Marine Hard Ice Chest Cooler Photo: Michael HessionOur pickGet this if: You want a cooler for weekends away, car-camping trips, or tailgating, or to keep as a backup cooler in your garage in case your power suddenly goes out. It's a workhorse.Why it's great: The Coleman 70-Quart Xtreme 5 Marine Hard Ice Chest Cooler is a tremendous value if you're looking for a spacious, reliable cooler. Not only that, but it's sized so that you can still move it and carry it with reasonable ease. It fits in most cars' trunks and works great as extra seating—it can support up to 250 pounds. The Coleman Xtreme weighs 13.4 pounds empty; even when it was filled with 60 pounds of ice, our testers still found it manageable to carry for a short distance. If that weight or size seems intimidating, Coleman makes a similar model with wheels.In our testing, the Coleman Xtreme kept ice frozen for a full week (170 hours), 30 hours longer than the Igloo MaxCold (140 hours). It measures 28.4 by 15.8 by 17.5 inches, its design incorporates bevels and angles all over the place, and it has a ruler and cup holders molded into its lid. Insulation obsessives may want to fill those cup holders with Styrofoam, but considering how well this cooler performed in our tests, doing so doesn't seem to be all that critical. The most noticeable functional difference in the designs of the coolers we tested was in their drainage ports, and because we were draining these coolers upwards of three times a day for several days straight, we learned quite a bit about what works and what doesn't. Unlike most of the other models, the Coleman Xtreme has a channeled drain, which made draining much easier and required very little tilting on our part.The Coleman Xtreme features replaceable hardware, whereas some of the company's cheaper models don't. This is an important detail because the first thing that will wear out on a cooler is either a hinge or a handle, and having affordable replacements means a cheap repair rather than a brand-new purchase. At the moment, you can buy Coleman's replacement hinges and replacement handles for less than $10 each.Flaws but not dealbreakers: Coleman makes many nearly identical versions of the Xtreme cooler. We don't know why they all have such similar names and such different looks, but according to sources within Coleman, for practical purposes they are all identical where it counts: in insulation and build materials. We consider all of these models to be part of the same line.Dimensions: 28.4 by 15.8 by 17.5 inches (WDH)Best cooler for long, tough camping trips: RTIC 65 QT Hard Cooler Photo: Rozette RagoOur pickGet this if: You need a cooler that's all but indestructible for longer camping trips, and you don't mind giving up a bit of interior space for thicker insulation.Why it's great: Most roto-molded coolers are two or three times more expensive than they need to be. (The term refers to a manufacturing process that creates uniformly thick, and therefore extremely durable, plastic walls with no seals.) Of all the models we tested—a group that included the wildly popular Yeti Tundra 65—the RTIC 65 QT Hard Cooler emerged as the best for the price and performance. It's just as tough as any of its competitors, and it keeps ice from melting for just as long. That said, most people do not need a roto-molded cooler. They're big. They're heavy. They carry less than other, same-size coolers because of the amount of insulation they're packed with. In short, they're impractical for most mundane needs—a fact that has stopped absolutely no one from buying them in record numbers.The RTIC 65 weighs 36.5 pounds and measures 32 by 17 by 18 inches on the outside. It has enough space to hold 65 cans or 70 pounds of ice. Unlike several other competitors, the RTIC 65 has two drainage ports for quick cleaning and draining. RTIC also sells a 45-quart version if you need something smaller.Similar to any other true roto-molded cooler, the RTIC 65 is practically…
Best Coolers 2022 – Forbes
10 Of The Best Coolers For Camping, Road Trips And Beach GetawaysDuring the height of summer, having a cooler in your outdoor gear arsenal is a must. No one wants to sip on a tepid beverage when temperatures reach sweltering heights—especially when you could have an ice-cold drink with the help of a trusty cooler. Whether you're in the market for a hard-sided or a soft-sided cooler—or even a backpack cooler—the very best options have something for everyone. Classic brands like Coleman and Igloo now make upgraded versions of legacy models that deliver a ton of reliability and value, while newcomers like Yeti and RovR offer high-end coolers with an array of modern features. From Yeti to RTIC, here are the best coolers for every adventure.ILLUSTRATION: FORBES / CREDIT: RETAILERS From classic ice chests to heavy-duty soft models, here are the best coolers for every kind of outdoor occasion and adventure, including both top-of-the-line models and affordable picks. Best Cooler Overall: Yeti Tundra Haul Cooler Best Cooler Like Yeti: RTIC Ultralight 52-Quart Cooler Best Budget Cooler: Igloo Retro Picnic Basket Cooler Best Small Cooler: Yeti Roadie 24 Cooler Best Large Cooler: Orca 140 Quart Cooler Best Soft-Sided Cooler: Engel HD30 Soft-Sided Cooler Best Cooler with Wheels: Rovr RollR 45 Best Cooler For Camping: Pelican 95 Quart Elite Cooler Best Backpack Cooler: Hydro Flask Day Escape 20 Best Electric Cooler: Dometic CFX3 45 Best Cooler Overall Fill To Capacity, Transport With EaseYetiYeti Tundra Haul CoolerExterior dimensions: 18.6 x 19.5 x 28.3 inches | Weight: 37 pounds | Capacity: 55 quartsYeti put wheels on their beloved original (the Tundra) to create the Tundra Haul Cooler, our top overall pick for countless reasons. It delivers the same premium ice retention Yeti is known for, but also lends itself to the full gamut of outdoor activities, including camping, going to the beach, relaxing by the pool and backyard barbecuing. Built with the brand's reliable NeverFlat Wheels and a tow handle, it's perfect for adventures because, unlike a traditional cooler, you don't have to worry about whether or not it's too heavy to carry. The puncture-resistant wheels can easily roll over rocks, sand, and grass, providing hassle-free travel. With a large interior, the cooler holds up to 45 cans or 55 pounds of ice on its own. Designed using PermaFrost Insulation and ColdLock Gasket technology to retain ice, it blocks out the heat and seals in the cold to create an optimal cooling temperature for waters, lemonades and brewskis.forbes.comDicks Sporting Goods Coupons | 10% Off In August 2022 | Forbes Best Cooler Like a Yeti Similar Design At A Fraction Of The PriceRTICRTIC Ultralight 52-Quart CoolerExterior dimensions: 16.5 x 17.3 x 27 inches | Weight: 21 pounds | Capacity: 52 quartsRTIC's many coolers look strikingly similar to Yeti's rugged, boxy designs, and this ultralight 52-quart cooler packs a lot of the same features like a roto-molded construction and closed-cell foam insulation. It's bear-resistant and easy to haul thanks to heavy-duty rope handles, and a drain spout releases any ice melt to keep your goods cold and dry. But what's really attractive about this cooler is the price tag: it sells for a fraction of the price of a similar Yeti. While it…